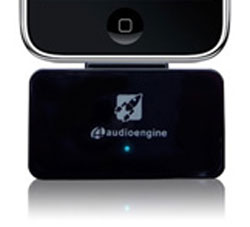 The iPod is the most popular digital music player around and there are scores of products that dock the iPod to a home stereo to allow music playback through the audio system. Many of the solutions for docking require hard-wired docks the iPod has to stay connected to.
Audioengine has announced a new wireless W2 Premium adapter of the iPod that streams music from the iPod wirelessly to the home stereo from up to 30-feet from the receiver. The system ships with the transmitter that connects to the docking adapter of the iPod and a receiver that connects to your home stereo.
The system streams CD quality uncompressed audio over your home Wi-Fi network to the stereo. The transmitter has a HOP feature that allows it to work with up to eight receivers allowing you to set up a multi-zone audio system in your home. The Audioengine W2 Premium Wireless adapter for iPod is available now for $169.
Audioengine, iPod, Wireless Adapter