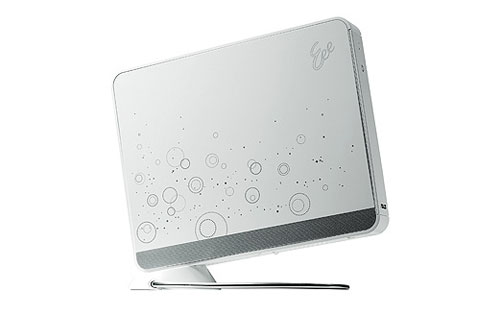 I really like the idea of a HTPC in my living room. I would love to be able to watch A-Team or The Pretender on my big screen rather than my PC display from Hulu. The catch is that I don't want a big and bulky HTPC machine in my entertainment center, I just don't have the room, and I want HD capability.
Asus has announced a couple new Eee Box models that could be perfect for my needs. The models are the B204 and B206. Both of them offer HD capability thanks to a new discrete ATI Radeon HD 3400 series video card. The systems also offer HDMI output for connecting to HDTV sets. The B204 adds Bluetooth and an internal battery to act as an uninterruptable power supply.
Other than those two features, both models are the same. They use Windows XP Home, 1GB of RAM, 802.11n Wi-Fi, a LAN port, card reader, onboard audio with optical out, and a 160GB HDD. Both systems also include a wireless remote for accessing content from the comfort of my couch. Pricing and availability are unknown, but the new version shouldn't be too much more than the existing Eee Box machines.
ASUS, Eee Box, HTPC