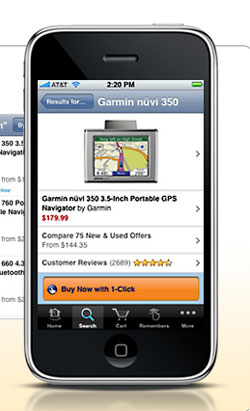 Many who shop online head to Amazon when it comes time to buy. Amazon has one of the largest product inventories online and makes shopping fast and easy. Amazon is always looking to make shopping on its site easier for users and has announced its first iPhone App.
The Amazon app will work on the iPhone and the iPod touch. Using the app users can browse the Amazon inventory, view Customer Reviews, and buy using Amazon's 1-click Shopping and Amazon Prime.
The coolest feature of the app is offered on the iPhone and is called Amazon Remembers. The application lets iPhone users snap a picture of products using the built-in camera. The photo is then sent to Amazon and it looks for the product or similar products that can be purchased or remembered for purchase later. If you see someone using a cool notebook, you take a picture of it and Amazon will try to find more info on it for you.
Amazon, app, iPhone