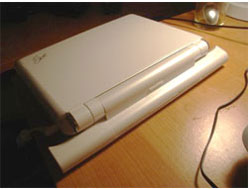 When I think of a netbook, I envision a small, lightweight machine offering lower levels of performance in exchange for longer battery life and a lower purchase price. Most of us expect the same things. Some people aren't happy with the battery life of the Eee netbooks and look to the aftermarket for more run time.
A new battery for the Eee 1000H and the 901 is now available that is in simple terms insanely ugly. The battery is wider than the netbook itself and features 10-cells to provide power for the little rig.
The battery claims to give the Eee netbooks runtime of 10 to 14 hours. I think they should have pared the battery down a bit to however many cells would fit in the width of the netbook itself. The battery makes the netbook look like it has a tumor. No word on pricing of the battery or availability for those who don't care about the looks of their netbook or how much the thing weighs.
ASUS, battery, Eee