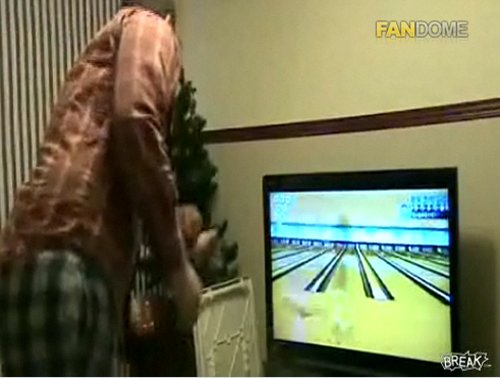 This is the funniest thing I've seen all day. We've seen tons of tons pics of the aftermath of what an LCD TV looks like after it's had a Wiimote encounter of the nerd kind, but I'm thinking this may be the first actual recorded instance of the phenomenon. It's captivating.
The dude is playing Wii Bowling real close to the TV. When the carnage takes place, the first thing he does is call for his mama, then he touches the TV and gives it a few gentle nudges, no doubt believing that this will somehow make it all right again. Again he calls for his mama. Video below.


I'm guessing this was followed by weeping on his hands and knees, until mama comes in, sees the carnage and beats him senseless with the wiimote. She probably even used the wriststrap.
broken, destroyed, LCD, Nintendo, tv, video, Wii, Wiimote