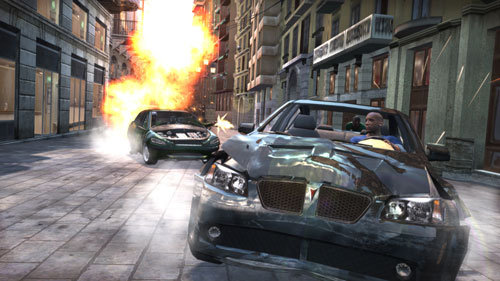 When you think of actor Vin Diesel several different films probably come to mind, including some of his first work in the Fast and the Furious franchise. With video games quickly rivaling blockbuster films in sales, it's no surprise to see familiar movie stars popping up in video games.
Yesterday I mentioned Need for Speed Undercover, which will feature massive hottie Maggie Q as a main character. Actor Vin Diesel is not only the main character in the Midway game set to hit store shelves on February 20, 2009 called Wheelman, he is producing the game as well.
According to Midway, it will spend millions to market the game and it expects the title to be a big hit. The game is set in Barcelona Spain and is described as an open-world driving game. The hero of the game is Vin Diesel's character who is a precision driver for hire. Midway says that the game is expected to be turned into a big screen feature film as well. It's very interesting to see how much more entwined Hollywood and the gaming industry are becoming. I just hope Hollywood doesn't put out any more turds like the Doom movie.
Driving Game, Midway, Wheelman