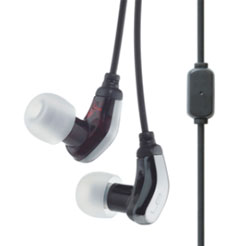 It seems like every new phone that hits the market has the capability to play music today. Along with the capability to play music on a phone comes a requisite headphone jack to allow for private listening. There is a glut of earphones and headphones on the market for consumers to choose from and they all have the same basic design.
Ultimate Ears has announced a new set of earphones that use a new design not previously available. The Super.Fi 5 and Super.Fi 5vi earphones use a new top-firing design. According to the maker of the headphones the top-firing design allows the earphones to be placed into a more compact and ergonomic design making them more comfortable.
Even though the earphones are physically smaller, they are still able to produce sound quality that rivals much larger designs. The difference between the 5 and the 5vi model is the 5vi integrates a microphone to allow music phone users to make and receive calls with the earphones as well. The 5vi model is iPhone compatible. The standard headphones retail for $169.99 and the microphone integrated set retails for $189.99. Both models are available now.
earphones, iPhone, Ultimate Ears