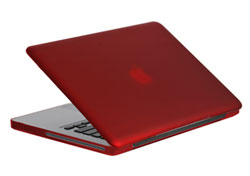 Mac computers are gaining popularity all of the time. it hasn't been too long since Apple announced the newly updated aluminum clad MacBook and MacBook Pro computers. If you dropped the coin needed to grab yourself one of these sexy new notebooks, you probably want to be sure it stays scratch free and protect it from drops.
Speck offers up a new case for the aluminum 13-inch MacBook and 15-inch MacBook Pro that uses a hard shell design for extra protection. The case uses what Speck calls a soft touch See Thru Sating design. The exterior of the case is translucent allowing you to see the Apple logo and some of the case though the protective covering.
In addition to being see thru, the case also has a soft touch rubberized feel that looks cool and offers additional grip to help prevent drops. At launch, the case is available in black, purple, and red colors. Additional colors will be offered in January. The case is available now for $49.95.
case, Mac, speck