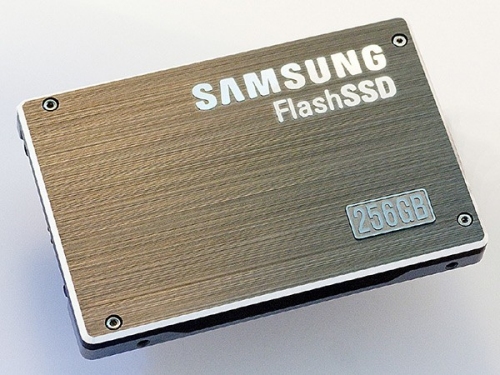 We had heard talk about Samsung's 256GB solid state drive back in May and it appears that today the talk has finally come true. Samsung has announced they are now officially manufacturing the large Flash-based drive, and we can tell you it's fast. What we can't tell you yet is how much it costs.
The speed of the 256GB drive is double that of Samsung's 64GB and 128GB drives in what Samsung is calling "…disruptive performance", with sequential read rates of 220MB/s and write rates of 200 MB/s. Applications can launch as much as 10 times faster than a 7200rpm notebook HDD with speeds that would be similar to a 15,000rpm drive.
With the 256GB owners will also be able to take advantage of less noise and heat production than a standard SSD and use of just 1.1 watts of power to help with battery life in notebooks. We're guessing Samsung doesn't want to scare people away with the price of this thing right out of the gate, but it sounded expensive from the start.
Samsung, solid state drive, SSD, Storage