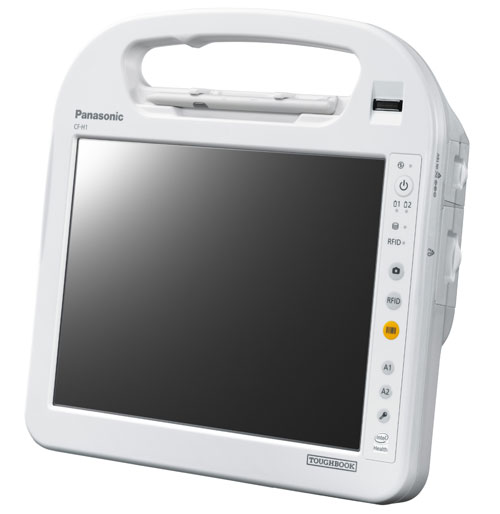 Back when I had a real job I worked in the health care field. I can tell you from experience that the hospital is one of the roughest places on the planet for a computer. Machines are dropped, stepped on, bled on, pooped on, and crushed between walls and heavy gear very frequently.
The trick is to have computers rugged enough to withstand frequent cleanings and the perils of hard use. Panasonic has announced its latest fully rugged computer system called the Toughbook H1 that is designed specifically for the medical setting. The machine uses the Intel Atom Z540 CPU and runs Windows Vista Business.
Other features include 80Gb of storage, 1GB of RAM, a 10.4-inch XGA screen that is touch sensitive, 802.11n Wi-Fi and Bluetooth. The machine features a built-in webcam as well. Integrated GPS technology makes the H1 location aware and the chassis is magnesium for strength and lightweight. Battery life is rated at six hours. The H1 starts at $2,999.
Panasonic, Toughbook