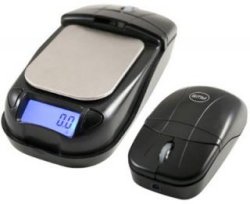 Here's a unique mouse. Probably good for drug dealers and those who like weighing really small objects. It's a standard USB optical mouse, but it also flips open to reveal a digital scale. I'm not sure how much a quality drug scale will run you these days, but at $50, the Optical Mouse & Digital Scale will allow you to rip off your customers while at the same time read your favorite blogs. It should also hide the fact that you have a small drug scale, like during a raid.
The Digital Scale has a 500g (17.635oz) weight capacity with readability to .1g (0.005oz). So it's for real small operations. There's also an internal rechargeable battery if you want to use the scale without being hooked up to the USB cord.

Great gift idea for the lowlife in your life.
combo, digital scale, Optical Mouse, USB