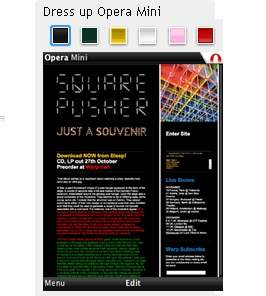 Opera has a beta version of the latest Opera Mini browser for mobile devices, boasting some cool new features for on the go, and faster connections for those in the Americas. For starters, Opera Mini 4.2 beta has brought back the skinning features from version 3, allowing a little customization to look of the browser. Users of the newest version of this browser who also have select phones such as a new Sony Ericsson or Nokia might also have some luck getting YouTube to run on it as well.
The new 4.2 browser will also make use of the new servers available in the U.S., making browsing faster for those in the Americas and Asia-Pacific areas. Opera says this will make things faster for those in other parts of the world as well since the new servers will off-load some work from the existing servers. Opera 4.2 also has a feature to sync your notes to your Opera Desktop with Opera Link.
Possibly the best part of all is that the latest and greatest Opera Mini browser is still being offered for free, and you can check it out at www.operamini.com/beta/. The install will not replace any existing stable version of Opera on your device, so you can run what you have an this new beta side-by-side until we're all comfortable with it.
Browsers, Opera, Opera browser, Opera Mini