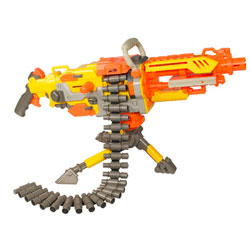 There are lots of kids my son's age in our neighborhood and frequently they end up at my house with Nerf guns blasting each other with foam darts. Nerf wars are lots of fun and kids (or adults) of all ages can partake in the action.
Nerf has introduced a new dart gun for the holiday season that is the ultimate weapon for backyard Nerf wars. The thing is called the N-Strike Vulcan EBF-25. The gun is fully automatic and can shoot three Nerf darts per second from a belt that holds 25 darts.
Power for the big beast comes from six D-cell batteries. The gun can be fired from the hip in a Terminator-like method or it can be fired from an included tripod for a Nerf emplacement. The Nerf Vulcan can turn the tide in any foam dart battle and sells for about $45.
nerf, Toys, Vulcan