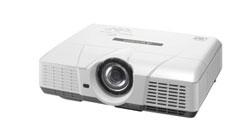 With some projectors that are used in the classroom or living room, getting a large image on the screen or a wall means needing a big room so the projector can be far enough from the surface the image is on. If you are in a smaller room that means you can end up with a smaller than ideal image.
This is where short throw projectors are perfect. Mitsubishi has announced a new short throw projector called the WD500U-ST that can throw an image 50-inches in size from only 28-inches from the screen or whiteboard.
Another big benefit of a short throw distance is that anyone standing up won't be in front of the projected image so no shadows block the view. Brightness for the projector is 2100 lumens and it features a 16:10 aspect ratio with a resolution of 1280 x 800. Pricing for the projector is $1,695 and it is available now.
Mitsubishi, projector