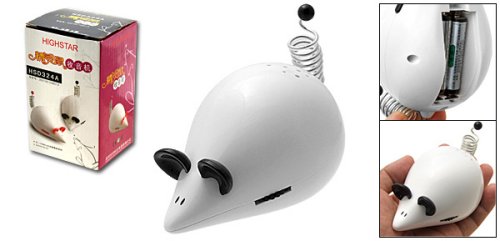 I would venture to guess that there's not many of us looking for a stand-alone radio in the age of iPods. But if you do like carrying around an FM radio, why not make it this cute little cartoon mouse? He's even got a spring tail, which I assume means that he's happy to see you. Best of all, he'll only cost you $6.99, but you'll need 2 AAA batteries.
Sadly, you can't even use this mouse as a portable mouse. If I were you I would hurry. Innovation like this won't stay in stock for long. I haven't seen such amazing vision in a gadget since the Creative Zen Moo.

If nothing else, it will scare an elephant.
cartoon, Cute, fm, gadget, mini, mouse, Radio