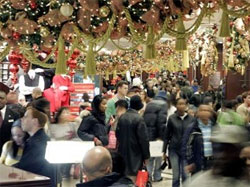 The poor economy is no longer a surprise to most Americans, but for many things look grim this holiday season. We have had reports that claim spending will be down significantly this holiday season in all areas but consumer electronics.
A new study from ABI Research claims that despite the economy many consumers plan to spend the same amount this holiday season or more. The survey polled 1600 households and found 47% of respondents planned to decrease spending.
The study also found that 40% expect to spend about the same this year on the holidays while 13% plan to spend more. Those who plan to spend more this holiday season are mostly younger consumers according to ABI. One thing the reports claims is that few of those polled plan on buying Blu-ray players this holiday season with only 8% saying they plan to buy a player.
Economy, Holiday