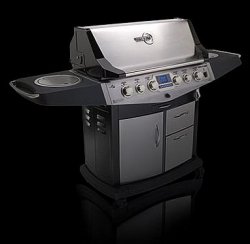 This may be the best grill ever. They say that dogs are man's best friend, but that's just not true. A grill is a man's best friend. The way to our hearts is through our stomachs after all. This grill has such features as an optional built-in CD/stereo system to keep you entertained while flipping steaks and burgers.
The 875 square inches of grill island is all about convenience and letting you cook like a pro. Some other features include: 79,000 BTU's, infrared rotisserie burner, side burner, digital temperature controls, dual zone cooking, smart touch screen, pre-programmed food setting icons and built-in meat probe, as well as a tank caddy pullout. The grill can even be upgraded to include a refrigerator and sink.

No word on price yet, but it won't be cheap obviously. We want.
grill, iQue, on-board computer, Outdoors, refrigerator, sink, stereo