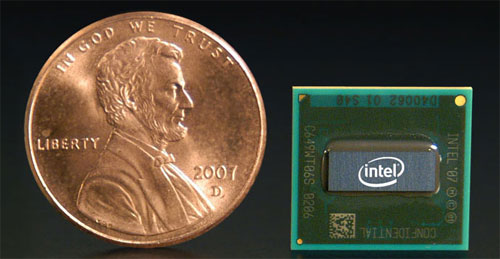 Unless you live under a rock you know that the economy in the U.S. and abroad is taking a beating right now. Despite the slow economy PC sales and shipments have continued to grow. Some research firms attribute the continued growth in part to the shipment of netbook computers.
IDC reported today that CPU shipments for Q3 2008 hit record highs. Worldwide CPU shipments for PCs grew 14% compared to the previous quarter and grew 15.8% over the previous year. The research firm reports that the Atom from Intel contributed significantly to the overall market performance. Even taking the Intel Atom out of the equation IDC reports that the CPU market grew by 8.3% from the previous quarter and 8.7% from the previous year.
Intel had the largest market share for the quarter with 80.8%, a gain of 1.1%. AMD finished with 18.5% of the market, dropping 1.2% and VIA held a paltry 0.3% of the CPU market. Things might not be as rosy in Q4 with IDC saying that the market looks murky. That didn't stop it from raising its yearly forecast to 18% though.
AMD, CPU, IDC, Intel