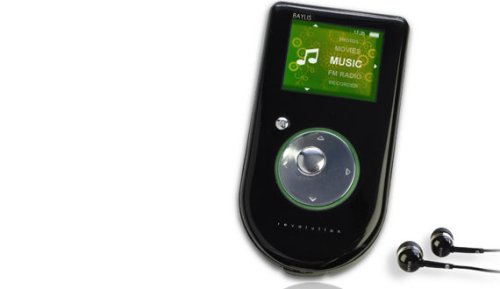 Baylis is back with an update to their Eco Media Player, called the Revolution. You might remember that when we tested the original, we liked it for what it was, but our main gripe was navigation and ease of use. Does the Revolution fare better? Read on.

First, this new player looks a lot nicer. It's still way thicker then say, an iPod, but presumably that's because of the internal dynamo that allows you to crank it up and get juice from nothing, like magic. If they can make the dynamo smaller, they'll be able to have a small player. So, the size is a trade off for being environmentally friendly. It would probably only bother hardcore iPod fans.
As far as the menu and navigation, this new version is much improved. The old one was a real hassle. It now sports a wheel interface similar to the iPod, though it lacks the ability to be used as a scroll wheel. What it does is make navigation easy and effortless. All of the headaches of trying to find something are gone. That's probably the biggest improvement.
The Revolution sports all of the features of the original, functioning as a recorder,mp3 player,ebook reader,picture viewer,movies, and FM radio. It comes in 2,4 or 8GB flavors and once again has a built in LED torch.
Just 1 minute of winding will provide around 45 minutes of music play, and a full charge via USB will give you a 48 – 50 hours or more play time! The on-board generator can also be used to emergency charge most popular brands of mobile phones.
This is a drastic improvement over the first generation model and it gets Baylis in a position to compete with the iPod and other big name MP3 players, with a lot of features and ease of use. It's great for anyone who wants to enjoy a quality MP3 player, while looking out for the environment at the same time. It's also a good model for those who don't feel the need to constantly upgrade and just want a player that is reliable and will last a long time.
Baylis, eco media player, environment, MP3, wind up