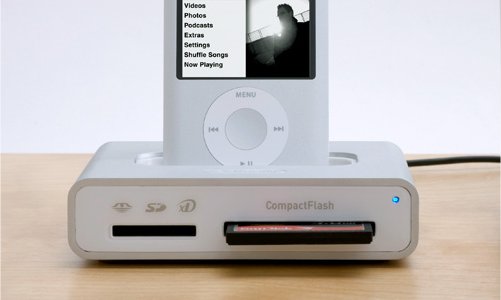 We got a chance to get our hands on Griffin's new Simplifi desktop device recently and we feel they really got the name right on this one. The Simplifi is a small Swiss Army Knife of accessories packed into a smooth silver box that adds some convenience and maybe even a touch of sophistication to your desk.
For starters, the device is a dock and charger for your Apple iPhone and/or iPod. It has the docking port right on top and comes with little plastic adapters to custom fit every iPod ever made with a docking port. However, if you happen to have the iPhone 3G you might want to check the box for a 3G sticker. The original product does not come with a 3G port adapter (not that you necessarily need it for the dock to work), but it will save you from having to buy one separately for $1.99. The dock adapter simply helps line up the port on your iPhone or iPod and makes the entire top surface of the Simplifi device nice and flush. If you are going to dock different types of iPods you may just want to skip the adapter all together as pictured above. Connecting, charging and syncing iPods worked just like when I connect them directly to my computer but looked much cleaner and neater compared to just laying the iPod and cord on my desk.
Secondly, the Griffin Simplifi is also a media card reader. It will handle reading multiple memory card types including Memory Stick, Memory Stick Pro, SD, SDHC, the big Compact Flash cards and even xD cards. The card reader ports are all right on the front and easy to use. I used some "cheaper" card readers in the past and it never seems to work out well. The readers on the Simplifi make it easy to line up the card and insert them straight. And again taking the place of one more device sitting on the desk.
Lastly Griffin touts the Simplifi device as a USB hub. It does have two USB ports on it but it uses one of your computer's existing ports to connect the device. By definition it really is a USB 2.0 hub and it does gain you a single USB port. The USB ports are able to power anything small such as mice, keyboards or flash drives without requiring any external power, which is nice. I'm always happy when I get avoid another cord. But, should you need to power something like some USB-powered speakers or an external hard drive the Simplifi does have an AC adapter so it can work as a powered USB hub, giving you back the one powered USB port it took and adding one more.
Overall we were very pleased with the Griffin Simplifi docking, charging, card reading, USB hubbing device. It is a well-built product that does its job and looks nice while doing it. Anyone that enjoys quality computer accessories and is looking to get rid of a little clutter will be pleased with this.
Griffin is currently retailing the Simplifi for just under $70 from the Griffin website and places like Best Buy. You might also be able to swing a good deal from Amazon.com. Currently they have the Simplifi listed at just over $45.
card reader, Chargers, docks, Griffin Simplifi, Review, SD memory, Simplifi, USB hub