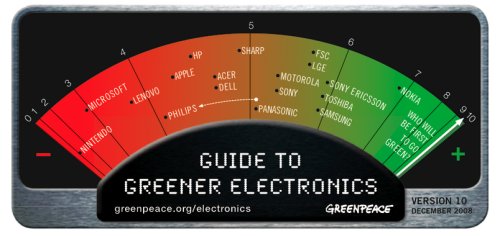 It's that time again. Greenpeace has released their new Guide to Greener Electronics. Compared to last year, there are many changes. Some you might expect, some you may not have foreseen.
Some manufacturers went up on the scale, while others went down. Nokia is the standout at the top, right at the 7 out of 10 mark, but poor Nintendo… The Big N is once again stuck at 1 out of 10. How did Apple fare? They fail once again and drop to the 14th position out of 18 companies.

The Scorecard seems to suggest that they aren't all that impressed with most of these manufacturers. Especially Lenovo, Microsoft and Nintendo, known as the class clowns who would rather fling spitballs in class instead of cleaning up their act.
gadgets, Green, greenpeace, report card, Scorecard, tech