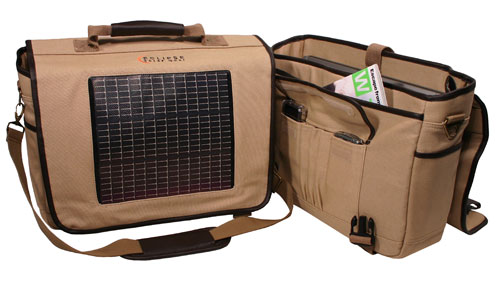 One of the worst things that can happen to a traveling geek/businessperson is to have their gadgets run down before the day is done. Power for your cell phone, MP3 player, or GPS device can be at a premium some days. A new messenger bag from Eclipse gives you a place to store all your gear and can help keep the gear charged at the same time.
The Fusion Solar Messenger bag can charge cell phones, MP3 players, and rechargeable batteries or any other device that can be plugged into a 12V auto adapter. The solar charger itself is removable and can be used outside the bag.
Total power output for the charger is 2.5 watts, so it won't be charging anything quickly. Other than the charger, the bag itself has what you expect a notebook bag to offer. It can swallow a 17-inch notebook and has numerous other pouches for phones and other gadgets as well. The bag is available now for $249.95.
Laptop Bag, solar charger