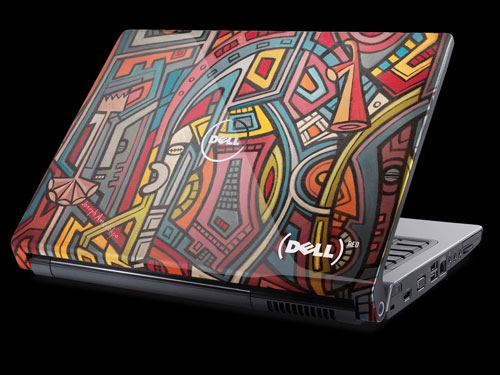 Those familiar with the different offerings from various electronics makers in the (PRODUCT) RED line will know that the idea behind the products is to get consumers to buy the items and the maker of the gear donates money to help fight AIDS in Africa. Typically the product themselves are differentiated by red color.
Dell has introduced some new (PRODUCT) RED laptops that use artwork rather than simply being red. The laptops in question are run of the mill Dell Studio 15 and 17 machines. Prices for the rigs start at $649 for the Studio 15 and $799 for the Studio 17.
The artwork featured on the systems includes cool designs from artists Joseph Amedokpo, Siobhan Gunning and Bruce Mau. I particularly like the Bruce Mau version called Healing Patterns that is a design showing the chemical bonding of AIDS fighting ARV drugs. For each of the notebooks sold Dell donates $20 to fight AIDS.
Dell, laptop