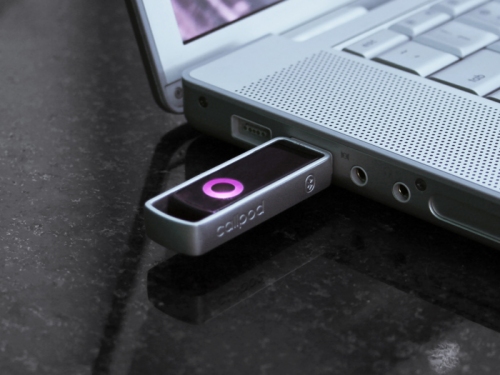 The folks at Callpod have now officially come out with the Callpod Drone Bluetooth 2.0 adapter we had heard about much earlier this year. The adapter connects to your PC or Mac through a standard USB port and provides streaming audio for headsets or speakers without installing any software or any complicated pairing.
In fact, you can be streaming music to your wireless Bluetooth speakers and the device will automatically switch to your Bluetooth headset when a VoIP calls comes in from tools like Skype. If that's not enough, CallPod is boasting that the Drone has a Class-1 range of 100 meters. We're expecting to get a chance to try this out for ourselves in the near future, allowing us to take advantage of the Bluetooth headsets we already have instead of a mess of wires to take VoIP calls.
If Callpod sounds familiar, you may have read about them when they came out with the Chargepod last year; a device that cleanly and conveniently charges as many as 6 USB devices at once. Now if they can only come out with a wireless device to charge our gadgets as well! Chargepod is asking $49.95 for the Drone at it is available now from Callpod.
Thanks Steve.
Bluetooth, Callpod, Drone