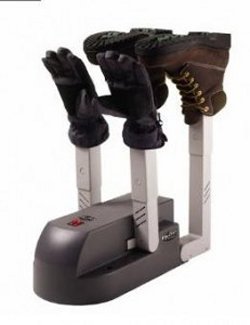 If you're spending much of your holidays in the snow or if you happen to fall in a lake, this boot and glove dryer might come in handy. The Pacific Outdoors Deluxe Boot and Glove Dryer supposedly dries your boots and gloves quietly, with efficient thermal convection that circulates warm air through your boots.
No word on how much power it sucks up, but nothing beats being able to wear some pre-heated and dry boots in the winter. The price is $44. As a bonus it looks like some strange booted and gloved creature with no head has just kicked the bucket right there on your floor.

Talk about an eyesore.
Boot, Deluxe, dryer, glove, Pacific Outdoors, warm, winter