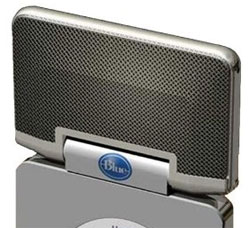 You may not have heard of Blue Microphones before, but they make some of the best microphones for home and studio recording available. I have one of their USB mics called the Snowball for my computer and it is fantastic.
Blue has announced a couple new products called the Mikey and the Eyeball. Mikey is a recording device that turns a normal iPod into a recording device for lectures, live music, interviews and more. The Mikey plugs into iPod 4G, 5G, and 6G models. It also supports the Nano 2G and 3G as well as the iPod classic. The mic features three user selectable gain settings, positionable head, built-in speaker, and Blue stereo condenser capsules.
The Eyeball is a web cam with exceptional audio and outstanding video capabilities. Blue says it is perfect for IM and video conferencing. The Eyeball uses Blue's condenser capsule, has a Super HD video premium lens, lens pop out feature for privacy, and the device is Plug and Play. Both products will be available in December for $79.99 for the Mikey and $99.99 for the Eyeball.
Blue Microphones, iPod