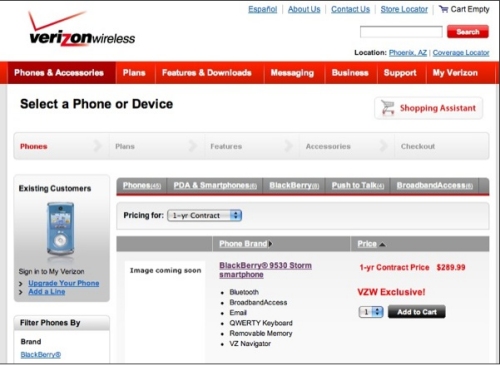 Finally we are getting some solid-looking information on the pricing for the BlackBerry Storm coming soon from Verizon Wireless. Rumors have been flying about pricing being under $200 to keep it competitive with the iPhone and possibly even offering the device for near-free to try and swing some of the smartphone market back to RIM.
As of now the testman site for Verizon is showing the BlackBerry 9530 Storm smartphone priced at $219.99 with a 2-year contract, and at $519.99 if you wanted to buy one outright. $289.99 will get you into the phone with a 1-year contract through Verizon, as well.
This is just the test site however, and the price could still change or have additional discounts associated with it once it gets into production.
9530, BlackBerry, Blackberry Storm, pricing, Verizon