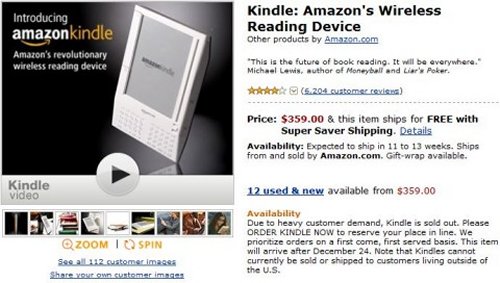 Amazon is having some trouble. Maybe they didn't count on Oprah selling so many units. Maybe they just are really bad at stock management. Whatever the case, shipping on the Kindle ebook reader is currently listed as 11 to 13 weeks time, completely overshooting Christmas and making deliveries at some point in Q1 2009. This will be the second year in a row that the retailer could not meet demand. Last year, with the device being new, Amazon could at least use the excuse that they were ramping up production.
It was back in October that Oprah Winfrey endorsed the Kindle. Amazon is also rumored to be preparing the Kindle's replacement, which was once expected to be on the market this holiday season, but now it is expected to be delayed until Q1 2009.

If there's one lesson that everyone already knew, and they should have paid attention to, it's that the power of Oprah rivals the dark side of the force. If Oprah likes something, make a zillion.
Amazon, delay, kindle, sold out, wait