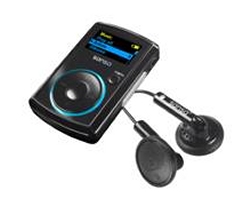 SanDisk is releasing the latest upgrade the Sansa Clip MP3 player this week, doubling its capacity to 8GB. Aside from the storage change the features are staying pretty much the same, but this is an MP3 player you would definitely want to take a look at.
The Sansa Clip is small, weighing just 0.9 ounces and has a clip to hook onto clothing or whatever similar to the tiny iPod Shuffle. Even though it's slightly larger (by less than a half an ounce), it really does has some advantages over the shuffle for not much more money. For starts the Clip of course now has an 8GB capacity and is retailing for just under $100 compared to $70 for the 2GB shuffle which is 4 times the storage for $30 more.
The Sansa Clip also has an FM tuner, a built-in microphone for recording, 15 hours of playback time and for goodness sake you can actually see and select the music your are listening to through a decent-sized color OLED display. One drawback for some however is that you need Windows XP or Vista to connect and download songs.
The 8GB Sansa Clip is going on sale this week and will only be in black, but SanDisk still has the other capacities available in colors of black, red, pink and blue for the 2GB and silver for the 4GB, retailing for about $60 and $80, respectively.
MP3 player, SanDisk, Sansa, Sansa Clip