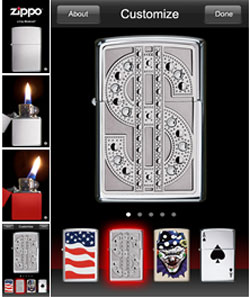 One thing that has been a concert going tradition as long at power ballads have been around is holding your cigarette lighter above your head with the flame going. This can be a problem if you want to partake in the tradition but don't smoke. Zippo has just the thing for non-smokers who want to participate.
Zippo and software firm Moderati have launched a new App for the iPhone that is available free on the Apple App Store. The application is called the Virtual Zippo Lighter and will work on the iPhone and iPod touch.
The screen displays a customizable classic looking Zippo lighter. To open the lid you flick your wrist or swipe a finger across the screen. Once open you can activate the flame by sliding your finger across the flint wheel. Then when you wave the iPhone over your head the flame flickers back and forth with the motion. Future versions will allow engraving on the lighter case and the ability to blow out the flame.
app, iPhone, Zippo