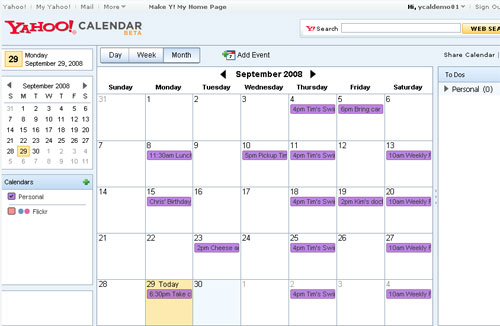 Since Yahoo and Microsoft broke off acquisition talks over the summer, Yahoo's stock price has been tanking. Yahoo is working on an advertising deal with Google it hopes will help its stocks. In an effort to woo new users to its Yahoo Mail service, it has introduced a new feature.
The new feature is called Yahoo Calendar and it is a popup feature within Yahoo Mail. The application is built on the Zimbra platform, which is technology Yahoo acquired with the Zimbra purchase last year. Zimbra uses open standards allowing Yahoo Calendar to be compatible with other calendar services online.
Zimbra uses the iCal and CalDAV standards making Yahoo Calendar interoperable with online calendar services from Mozilla, Apple, Microsoft, and Google. The calendar allows users to track, make, and share appointments. Zoom capability allows users to see appointments on a day scale or zoom out for the entire month. Other features include alerts, Flickr integration, to do list and more.
Calendar, Yahoo