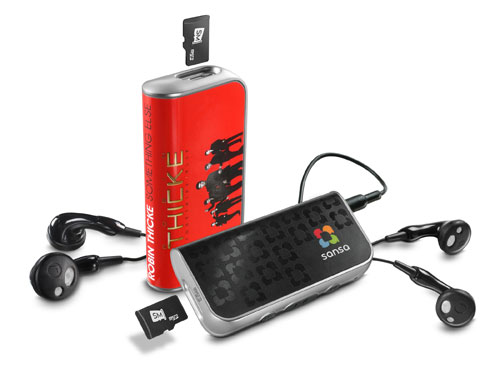 Apple may run away with the MP3 player market with its iPod, but there are other makers who enjoy some success in the marketplace and SanDisk is one of them. SanDisk is offering players with a feature that you are not likely to see from Apple — a microSD card slot.
This slot is naturally a requirement to work with the new music format introduced last month called slotMusic. The slotMusic format is nothing more than digital tracks installed on a microSD card. SanDisk has announced a new Sansa player specifically for the format called the Sansa slotMusic Player. The device offers no internal memory, no LCD, and no rechargeable battery.
Power for the device comes from a normal throw away battery and the only music it can play is from slotMusic cards. The device retails for $19.99 for the player alone, or a customized player with an artist-specific skin can be purchased along with a slotMusic card for $34.99. The skins on the player can be removed for customization. Measurements for the player are 2.75″ W x 1.4375″ H x 1.4275″ D and the weight is two ounces. Both the standard and customized players will be available in 2009.
SanDisk, Sansa, slotMusic