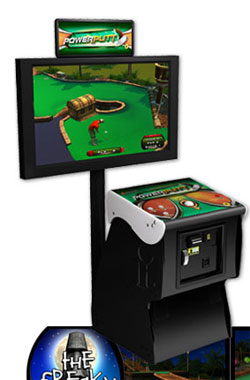 I've never played a round of real golf, but I play mini golf with my kids quite frequently. The embarrassing part about mini golf with my kids is that my son usually beats me. It's tough on the ego to be trounced by a 7-year-old, even if he is like a mini golf Tiger Woods with three hole in one shots per game.
I can still beat my son in video games though and if I can find PowerPutt in a local arcade the tournament is on. PowerPutt comes from the company that developed Golden Tee and offers good graphics with the same sort of controls used by Golden Tee.
The game is coin operated and a 9-hold round costs $1 per player with a full 18-hole round costing $2. Up to 16 players can play at once (obviously taking turns). Players can choose from three different courses including a Hawaiian course called Freaky Tiki, wild west course called Dusty Trail and a pirate course called Skull island.
Arcade Game, Golf, PowerPutt