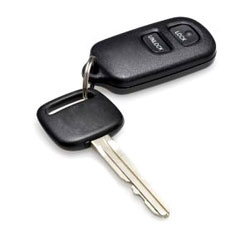 Smart devices are all the rage, we have smart phones, smart cards and the like, why can't we have smart keys? At some point in the future, smart keys that allow users to do much more than start their car and operate the alarm may be the norm. Naturally, the technology will first be seen on a luxury car.
NXP Semiconductors and BMW are teaming up to bring smart key technology to car buyers. The key prototype contains a contactless payment system along with personalized access control and other advanced functionalities.
One of the advanced functions the key could perform is to act at a public transportation e-ticketing device. The smart key is powered by NXP's SmartMX security chip. Using the key consumers could pay for services when shopping or buying gas, the key is basically a personal credit card. The downside I see is that if you lose your keys, you lose your credit card. Double suck.
BMW, NXP, Smart Key