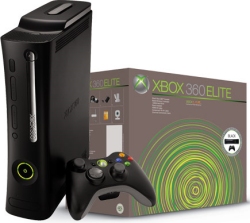 September games sales actually showed the first decline since March of 2006 according to the NPD Group, however things are still not looking too tough for the gaming industry. September of 2007 saw a huge hike in sales due to the release of Halo 3 which is contrasted by slightly lower sales this last September of 2008.
The drop is sales was not the only change of events for September, either. Due to the price cut of the Xbox 360 models, Microsoft saw a significantly noticeable boost in sales for its console from 195k units sold in August, to 347k units sold in September of this year, bringing it ahead of Sony's PS3. Microsoft dropped the price to $50 less than the Wii and half of what the PS3 costs, making it the least expensive current-generation game console on the market.
Despite the surge or sales for the Xbox 360, Nintendo still stole the show once again by leading game console sales with the Nintendo Wii, selling 687k units last month. This first position was followed up by none other than Nintendo as well by selling 537k units of the Nintendo DS handheld game console.
The list follows with the Xbox 360 at 347k units sold, Sony PSP at 238k, Sony Playstation 3 at 232k and of course the Sony Playstation 2 still holding in strong with 174k units sold.
Game Console Sales, game consoles, NPD, PS3, Wii, xbox 360