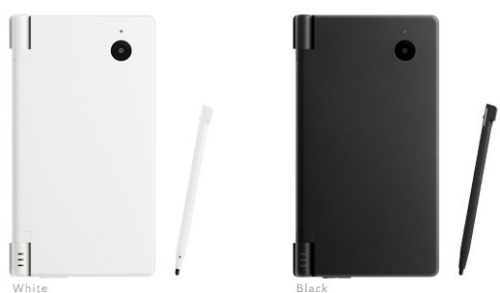 After numerous information leaks about an updated version of the DS, Nintendo has now officially announced the release of the Nintendo DSi. The DSi, is the third iteration of the handheld game console and the company has managed to pack even more features into the device while even making it slightly smaller.
The new DSi looks very similar to the DS Lite with the same clamshell design and dual screens but the chasis is about 2.6mm thinner. They've also made the dual screens a little larger, bringing them from 3 inches to 3.25 inches, but that's those aren't the most interesting features of this new handheld console.
Most noticeably, the device has a couple of digital cameras added to it; one on the outside and one on the inside hinge. No doubt to incorporate some fun new games involving pictures of yourself and others. The cameras can take photos on store them onto as SD card.

Yes, the Nintendo DSi now also has an SD card slot INSTEAD of the GBA card slot for games. Pictures, music and games can downloaded onto the device and stored on the SD card, which seems to make much more sense than having to carry around all those little game cartridges.
You may have also noticed that I mentioned "downloading games". This is because the DS has an enhanced wireless capabilities that will allow downloading games from what Nintendo is calling the DSi shop, as well as surfing the internet through an on-board browser. DSiWare games can be purchased with a point system in which you can purchase points, and 1000 points will come with the console initially.
Unfortunately the DSi does not have a launch date set for the U.S. quite yet, other than saying it will be sometime next year. They've announced the launch in Japan however for November 1 with a price tag of around $179.

Nintendo DSi [Japan]
DSi, game console, Games, Nintendo, Nintendo DSi