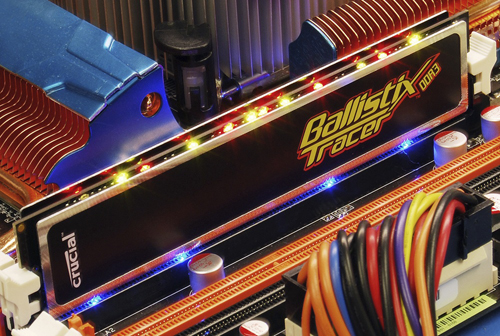 Computer memory manufacturer Lexar Media is betting you might want to add a little extra something to those boring DDR3 memory modules – lights. The company announced today its Crucial Ballistix Tracer PC3-10600 (DDR3-1333MHz) modules in 1GB and 2GB sizes.
The Ballistix Tracer modules come equipped with "activity-indicating Light-Emitting Diodes (LED)." They "are illuminated in a random pattern based on memory activity, highlighting the system memory and allowing users to visually see how intensely the memory is working." Performance enthusiasts, case modders and do-it-yourself users are among those expected to take these up.
Other features of these modules include "black printed circuit board (PCB) and black integrated heat spreaders, as well as LEDs spread across the entire length of the top edge of the module. Additionally, eight blue ground-effects LEDs emit a constant glow near the motherboard memory sockets." They should be available now.
computer memory, Lexar, Memory