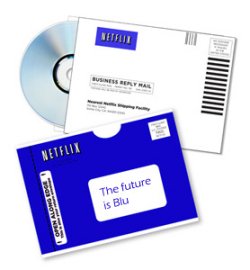 Earlier in the year, Netflix announced their plan to increase Blu-ray titles and even hinted the possibility of raising fees on monthly subscribers with the Blu-ray renting option. They've done it. Users are receiving e-mails confirming the fee. The company notified its customers of a fee increase of $1 plus tax per month for subscribers with unlimited Blu-ray movies. While the increase sucks at even $1, I don't see those wanting BD content going back to DVD. Of course in this economy a dollar is worth hanging onto. Netflix e-mail below.

As you may know, Blu-ray movies are more expensive than standard definition movies. As a result, we're going to start charging $1 a month (plus applicable taxes), in addition to your monthly membership charge, for unlimited access to Blu-ray movies.
The additional charge for unlimited Blu-ray access will be automatically added to your next billing statement on or after November 5th, 2008 and will be referenced in your Membership Terms and Details. If you wish to continue getting Blu-ray movies for $1 a month more, you don't need to do anything. If not, you can remove Blu-ray access anytime by visiting Your Account at the Netflix website.
If you have questions about this change or need any assistance, please call us anytime at 1-888-638-3549.
-The Netflix Team
Blu-ray, dollar, DVD, fees, Netflix, rental