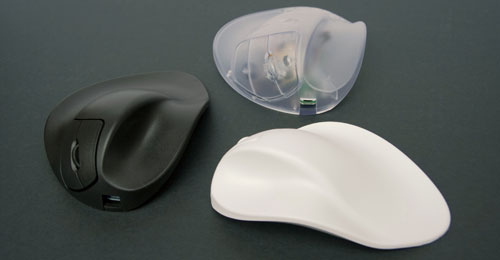 For some computer users working on a PC all day is a literal pain because of all the repetitive stress from typing and using a mouse. There are many different types of ergonomic computer peripherals on the market and some work well. A new ergonomic mouse is being announced that was developed by two major medical universities in Holland.
The mouse has the rather odd name — HandshoeMouse. You might expect it to be shaped like either a hand or a shoe thanks to the litany of strange peripherals on the market. The HandshoeMouse has extensive medical studies to back up its strange design.
The design of the mouse allows the user to place the palm of the hand on the mouse without having to cling onto the mouse, reducing strain. Three different sizes are offered for more user comfort and the mouse comes in three different colors. Pricing for the mouse is EUR 120, it is unknown whether the mouse will make it to the states or not.
Ergonomic, mouse