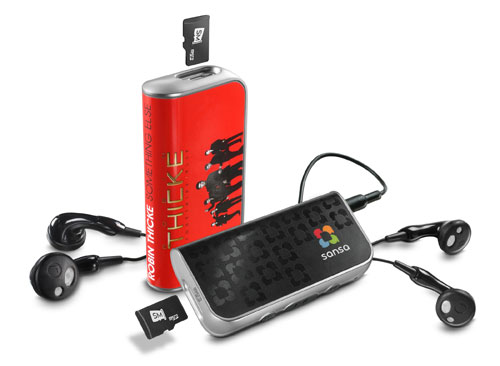 As you might have heard, SanDisk is offering players with a feature that's a little unusual, a microSD card slot. The slot is a requirement to work with the new music format introduced last month called slotMusic.
The slotMusic format is basically just digital tracks written on a microSD card. SanDisk's new Sansa player is made especially for the format and is pretty bare bones with no internal memory, no LCD, and no rechargeable battery. It operates on a single AAA battery. It plays slotmusic cards. Period. The device retails for $19.99. You can also get a customized player with an artist skin and a slotMusic card for $34.99. The skins on the player can be swapped if you like. Both models will be available in 2009. But how did we like it? Click through to find out.

It's an odd sort of player for sure. Barebones in the sense that you get the slotmusic card slot, three buttons for skipping tracks and playing etc, and a button for the volume. That's it. That's all she wrote. That's because it isn't geared toward those who have 500 songs on their player. The new slot music players are aimed at those people who find downloading music too difficult, or just don't won't to be bothered. It's all about the new format that major record companies are betting on. So it really can't be compared to other MP3 players. This isn't for iPod fans. It sports everything it needs to just simply enjoy an "albums" worth of material. No muss no fuss. You pop in the slotMusic card as you would a CD and just do your thing. Each card is a full album. So, for what it is and who Sandisk is aiming for it's a nice little player. From their site:
Down with downloads. Up with the new Sansa slotMusic player. The player that cuts out the middleman, and lets you get straight to the music.slotMusic is a versatile new physical music format for the 21st Century.
Each slotMusic card already contains a full album of music, but you can also add files of up to the 1GB card capacity. There are 35 artists announced who will have their albums on slotmusic cards in Best Buys' and Walmarts by the end of this month and they are hoping that number will grow.
I like downloading my own music personally, so I have a hard time really embracing this player, but if I wasn't able to download or couldn't figure it out this would give me a pretty simple solution. It even comes with a USB adapter.
Final verdict. A useful and affordable player for a certain segment of the population. Those people should really enjoy it's convenient size and ease of use. And if the new format is embraced, I'm sure Sansa will amp up the players accordingly.
Hands on, player, Review, SanDisk, Sansa, slotMusic