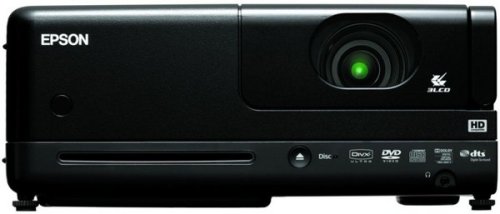 We had the opportunity to check out the Epson MovieMate 55 all-in-one projector, which offers a high-quality projector, a CD/DVD player and stereo speakers in a portable unit. Epson's goal with the MovieMate 55 seems to be to offer consumers an affordable, easy and convenient home entertainment console that goes anywhere. Did they succeed? Read on.

Whether you've used this sort of portable projector before or not, there's probably something to impress you. It literally takes just a minute to set up out of the box. Attach the power cord to the unit and plug it in. That's it. Simple. Then just do what you want to do. It will project a 16:9 widescreen 60-inch image from only six feet away or a 120-inch image from just 12 feet away. Obviously it gets even bigger the further you go.
I can't even tell you how many movies I watched on the MovieMate in theater size. Seeing movies like Iron Man large as opposed to a typical sized TV is awesome and the picture quality looks every bit as good as the theater as far as my eyes could tell. Just pop in a DVD, point the projector at a large wall, adjust the focus and you are ready. I wanted to see how big I could make the picture, so I even projected a movie against my neighbors house. Even that large it looked pretty damn sweet.
It's not just movies and CDs or slideshows either. It will connect to your iPod, Wii, PS3 or Xbox 360 too. I don't have a huge TV so I was pretty impressed when I hooked the Wii up to the projector and saw all of our games huge. I was seeing all kinds of detail that I didn't even know were in the games.
The sound that pumps out of the unit has to be commented on as well. While I was playing some Wii games I heard sounds that I had just never heard before. Very deep, layered and textured sounds thanks to two built-in 8 watt 5.1 Dolby Digital DTS speakers. Which is surprising for such a compact unit. It makes for a great experience all in a small 8 pound unit.
Basically movie night is wherever you are. I had a lot of fun messing around with the Movie-Mate 55 and though I was expecting too, I didn't find any flaws. It retails for $699. When you compare that to TV prices, you're getting a larger screen and portability. They pack in a ton of features for that price. Though I'm a little surprised there's no Blu-Ray. I'm pretty sold on it after using it and I'm thinking about buying one instead of upgrading my TV.
Epson