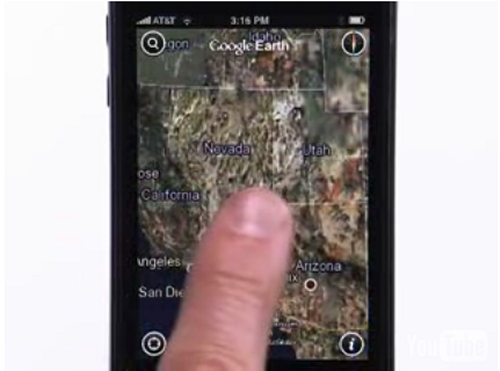 Google has officially announced the availability of Google Earth to use straight from your iPhone or iPod Touch, and so far reports are that it's not too shabby. When a good data connection is available the geographical software streams to the device relatively quickly and not only makes use of the phones full display but also it's functionality.
Multi-touch enables users to zoom in or out of a map with ease and even rotate the map on the screen. A compass in the corner helps keep your bearings. Tilting the iPhone will change the angle of the view to better see the topology of the current terrain, and "My Location" feature will bring the map right to your current location on Earth. Google also of course incorporated their search engine to find information on local businesses and the surrounding area, and built in Panoramio and Wikipedia to get articles and pictures from near your current locale.
The Google Maps for iPhone and iPod Touch is available starting today and best of all, it's free from the App Store. It's out in all 18 languages that the iPhone supports and there are rumors for the future that Google Earth could be coming to Android as well in the near future.
via Washington Post
App Store, Google, Google Earth, iPhone, iPod Touch