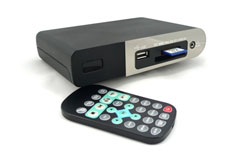 Looking at family photos has come a long way since I was a kid. My mom had volumes of photo albums with pictures crammed in slots. Inevitably, over time they would stick to the pages and ruin the pictures. Today for family photos, we store thousands of them on one tiny memory card or our computers and view them on a digital photo frame. The next evolution of viewing family photos will be looking at them on the big screen TV in the living room.
You can do something similar on an Apple TV, but you have to send the photos over a network to the device. PIE Unites has a new digital photo viewer called the HD-0310 that connects to your HDTV via HDMI and can display images at full 1080p resolution.
The device offers direct connection for multiple memory card formats including SD, SDHC, MS pro and PRO Duo, CF and more. The device also has a USB port for connecting external hard drives or flash drives with images, video, or music files. 16 different transitions are offered and the HD-0310 has a HDMI port built-in so you don't lose one to the device itself. Pricing and availability are unknown.
Digital Photos, Photo Viewer