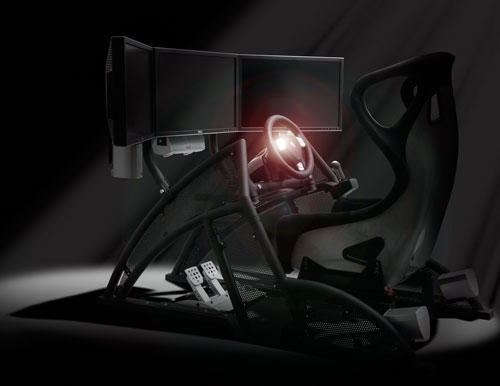 I am a big fan of racing and driving simulation games. Titles like GTR, Need for Speed and more are some of my favorite games. I am all for anything that makes for more realism when playing, especially things like force feedback wheels and racing seats.
Fanatec already offers a force feedback Porsche branded racing wheel and a budget wheel stand for driving sim fans. Fanatec has now announced a new racing cockpit for the truly hard-core racing sim fan. The product is called the Renn Sport Cockpit and is designed especially for force feedback racing wheels.
The cockpit is made from a metal roll cage and features a real fiberglass racing seat from a GTR series racing car. For an additional $300, gamers can upgrade to the carbon fiber racing seat. Options for the system include a left or right hand mounted shifter, sliding drawer for wireless keyboard, 5.1 surround system mounts, brackets for three 24-inch monitor or a single 37-inch monitor. The drawback is the price, the Renn Sport cockpit sells for $995. The first ten people to order get a free carbon fiber seat upgrade.
fanatec, gaming, Racing Cockpit