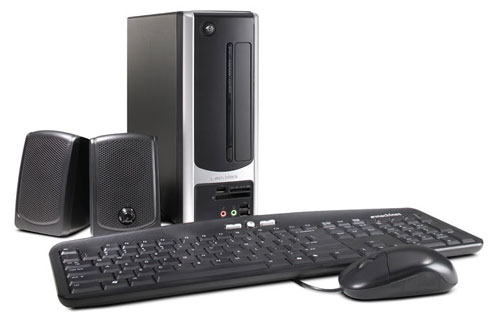 Desktop computers were once the computer of choice for the majority of users. Improvements in technology making notebooks cheaper and mobile Internet connections have turned the majority of users today to notebooks. However, there is still a market for the desktop PC, though it is shrinking literally and figuratively.
Many desktop computers today are shrinking in size into small form factor systems. The latest SFF desktop to hit retail shelves is the eMachines EL 1200 series. The series includes two computers — the EL 1200-05w and the EL 1210-01e. eMachines says the computers are about the size of a dictionary.
The 05w is a Wal-Mart exclusive system retailing for $298. It uses an AMD Athlon 2560e CPU, NVIDIA GeForce 6150SE integrated graphics, 1GB of RAM, 160GB HDD, DVD burner, and Windows XP Home. The 01e will be offered at Best Buy for $349. It will use the same CPU, NVIDIA GeForce 8200 integrated graphics, 2GB of RAM, 320GB HDD, DVD burner, HDMI out, eSATA port, and Vista Home Premium. Both models are available now.
eMachines