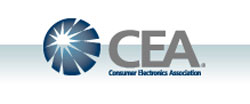 The people from CEA are the group behind the geek fantasia that is CES. CEA is into more than putting together one of the greatest displays of geek debauchery on the planet, it also does things like predict holiday electronics sales.
You might expect this holiday season to be slow with the sluggish economy around the world. According to the CEA, despite the economy shipments for Q4 2008 are expected to grow by 3.5% compared to Q4 2007 shipments.
Four of the top ten items on adults' holiday wish lists are consumer electronics. Among the top ten electronic items on which lists around the world are computers, game consoles, and cell phones. According to the CEA nearly 80% of adults hoped to get a consumer electronic item for the holidays. Consumers plan to spend a total of $1437 this holiday season on everything holiday from food to gifts and decorations, down about $200 from 2007.
CEA, Consumer Electronics, Holidays