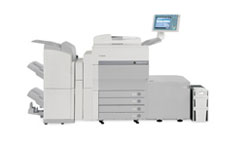 Back when I had a real job I used to maintain the network, computers and printers in a large pharmacy. Someone was always breaking the laser printers and every time I had to mess with one, I ended up coated in black toner powder. The stuff was next to impossible to get off your clothes.
Canon has introduced a new printer that also uses clear toner, which I am sure would be easier to get out of your clothes. The printer using the clear toner is called the imagePRESS C1+. The printer is designed for the light production and proofing markets.
Why clear toner? Canon says the clear toner allows for more creative options and companies can use the clear toner to watermark images and productions for added security. The printer outputs 1200 x 1200 dpi resolution and can print 14 ppm in color and 60 ppm in black.
Canon, printer