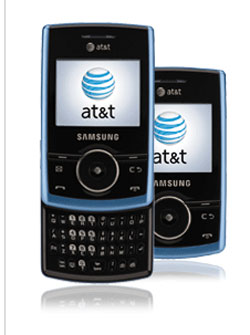 For some users a smart phone is overkill. All some people want is the ability to send text messages and make phone calls. For this type of user, a fancy smartphone with word processing and other functions isn't particularly appealing.
AT&T has announced a new Samsung handset called the Propel that is designed with the text user in mind. The phone has a full QWERTY keyboard in a vertical sliding design. Multiple color options are available and the handset can do email and offers 3G connectivity.
The phone measures 3.85″ x 2.33″ x 0.58″ and weighs 3.79 ounces. The built-in camera has 1.3-megapixels and can record video. Also supported ate AT&T service like XM Mobile Radio, MusicID, MobiTV, and AT&T Navigator. The Propel will be available this weekend for $79.99 after a two-year agreement and a mail-in rebate.
AT&T, mobile phone, Samsung