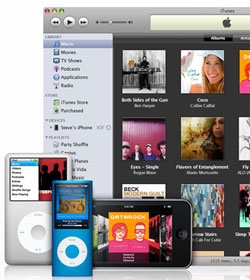 No one can deny that Apple's iTunes store is seriously popular. The store is the single largest music retailer and has one of the largest collections of music available. The App store is wildly popular and the iTunes movie rental, sale, and TV show market is booming. It seems that Apple can't do wrong with iTunes.
In fact, Apple has announced that it has now sold over 200 million TV show episodes via iTunes. Apple also says that over 1 million of those shows sold have been in HD resolution. Major networks all contribute programs to the iTunes store including FOX, CBS, ABC, and CBS.
Some may wonder why people would pay for episodes of their favorite shows when you can watch them online free at the studio website. Many people are like me, I DVR most shows but when I miss them or the DVR fraks up I don't want to watch on my PC display, I want my shows in HD on my 50-inch TV via my Apple TV. With this announcement, iTunes now claims the title of the world's most popular online TV store. Plus some networks are even offering shows on iTunes before they air; I watched the premier of My Own Worst Enemy weeks before it debuted on the network.
Apple, iTunes, tv