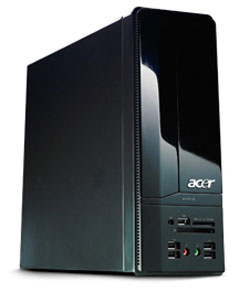 Computer manufacturers are gearing up for the holiday season with new products being announced all the time. One of the biggest sellers over the holidays is usually computer systems. While many want notebooks for Christmas, several manufacturers are announcing small form factor desktops for users wanting larger screens and keyboards who don't need portability.
Yesterday eMachines announced its own new SFF systems and today Acer is announcing a new SFF of its own. The Acer system is called the Aspire X3200 and it measures 10.4-inches H x 4-inches W x 14.4-inches L. Inside the compact case is a Phenom X3 processor, Blu-ray drive, 4GB of RAM and 640GB of storage. Pricing for the system is $679.99.
Acer has also announced a new 24-inch LCD supporting 1080p movie playback perfect for the X3200. Typically, the native resolution for a 24-inch LCD is 1920 x 1200. The new P244W has a maximum and native resolution of 1920 x 1080. The new LCD retails for $339.
Acer, desktop computer